Last updated on August 30th, 2023 at 02:02 pm
Cruise ships are a popular vacation choice for many. When you are on a cruise ship, you are bound to see people using a walkie-talkie. A cruise ship is a huge ship and it can be hard to find people, especially if you are in a rush. So you might be wondering. This post will tell you Do Walkie Talkies Work On Cruise Ships?
Do Walkie-Talkies Work On Cruise Ships
A walkie-talkie transmits and receives radio signals, allowing it to communicate on cruise ships. A two-way radio is also known as a transceiver, allowing it to communicate with other devices. Cruise ship walkie-talkies communicate using radio waves.
It has become increasingly popular for cruise ships to use walkie-talkies as a form of communication due to their affordability, ease of use, small size, and portability.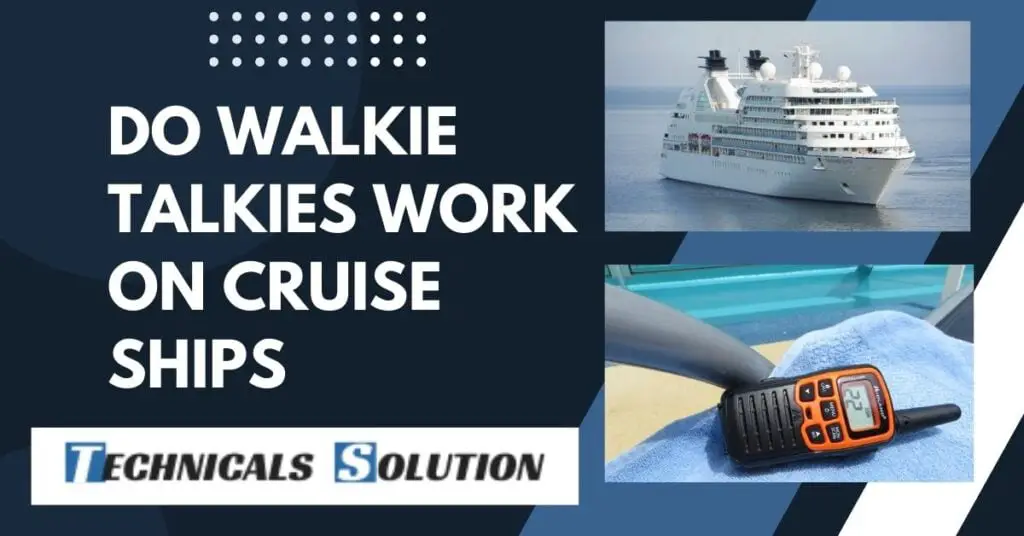 On cruise ships, walkie-talkies are commonly used by staff and crew members to communicate as well as coordinate activities, respond to emergencies, and coordinate activities.
Can walkie-talkies be used indoors on cruise ships?
There is an often-asked question regarding whether or not walkie-talkies work inside cruise ships inside. The answer is yes, they do work on cruise ships inside, but there are some considerations to be made.
In the first place, walkie-talkies operate on the same frequencies as ships' radios. Despite this, the range of walkie-talkies is limited because of the steel hulls of cruise ships.
A walkie-talkie's signal may be blocked or weakened in certain areas of the ship, so it is important to test the device before relying on it.
A look inside the cabin
The device has been tested only in optimal conditions with a clear sightline and fewer to no obstructions. Do not entirely trust the walkie-talkie that advertises a maximum range of 35 meters. If you are using the device in the cabin, and you are communicating with someone outside of the hallway, the communication will be clear.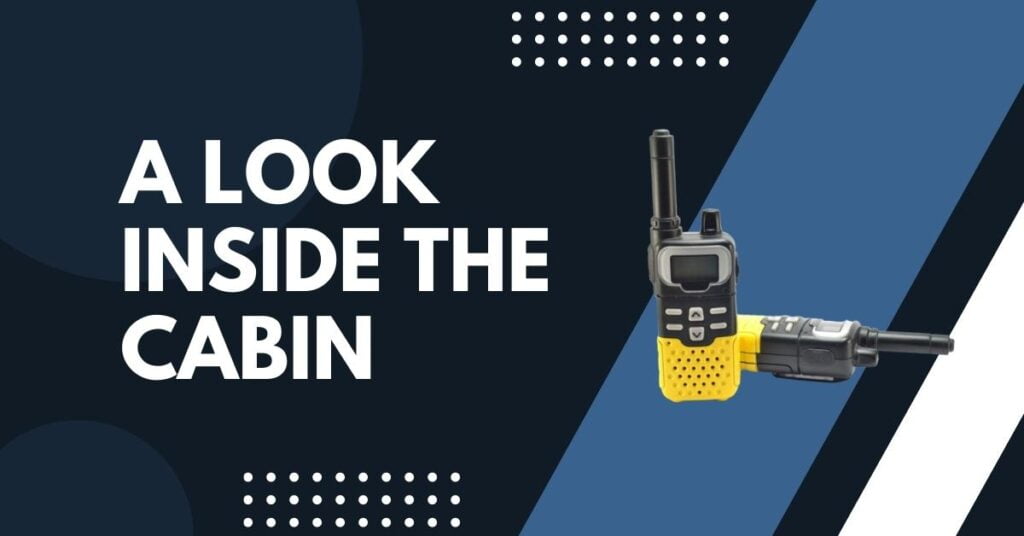 1. Communication
There are however many obstructions that can make communication between you and your friend difficult, including walls, ceilings, and metal posts. This can be a problem if you are inside your cabin and your friend is outside on the deck above.
2. Inside the cabin
As a result, expect communication interference when you're inside the cabin, especially on a cruise ship. The steel decks, walls, ceilings, and other obstructions in cabins can interrupt or even completely block the signal. To prevent signal problems, you should avoid using the device inside the cabin.
3. Ultra high frequency
If you want to talk in the cabin, consider using an Ultra High Frequency (UHF) walkie-talkie so the signal passes through walls and ceilings. Don't count on this too heavily, though, since many factors can affect the range.
On a cruise ship, walkie-talkies can be used outside the cabin
During a cruise, walkie-talkies can be an excellent way for you to stay in touch with your loved ones. On some cruise ships, you can even use special walkie-talkie channels to stay in touch with other guests.
They can be used between cabins, or even outside on the deck. Be sure to follow the ship's rules about using the walkie-talkie channels, and always respect the privacy of other passengers.
Walkie-talkie use On the Top Deck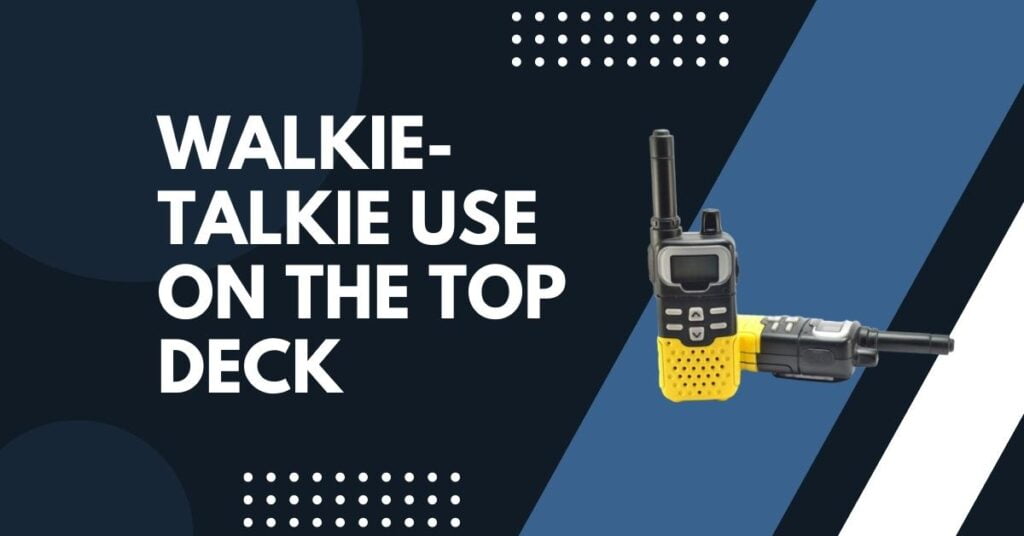 In the middle of my day, when I was enjoying the fresh air and the view on the ship's top deck, I heard a voice coming from a walkie-talkie. Although the voice was muffled, I could hear some words. It sounded as though the individual was in trouble.
My first thought was to grab the walkie-talkie and attempt to communicate with the individual. I could barely understand what they were saying, but I was determined to help them. I immediately alerted the captain and the rescue team. We were able to locate and rescue the stranded person using the walkie-talkie.
Losing Walkie Talkie
There are some strategies you can use to keep your walkie-talkie from getting lost on the top deck. Here are some tips:
The role of the walkie-talkie on a cruise ship
Guests and crew members can use walkie-talkies to stay connected, as well as use them in emergencies. They play a crucial role in keeping communication open between different areas of a cruise ship. A cruise ship's walkie-talkies can be a great way to stay connected, and they can make sure that everyone is safe and that everyone can communicate.
Best 5 walkie talkie for Cruise Ship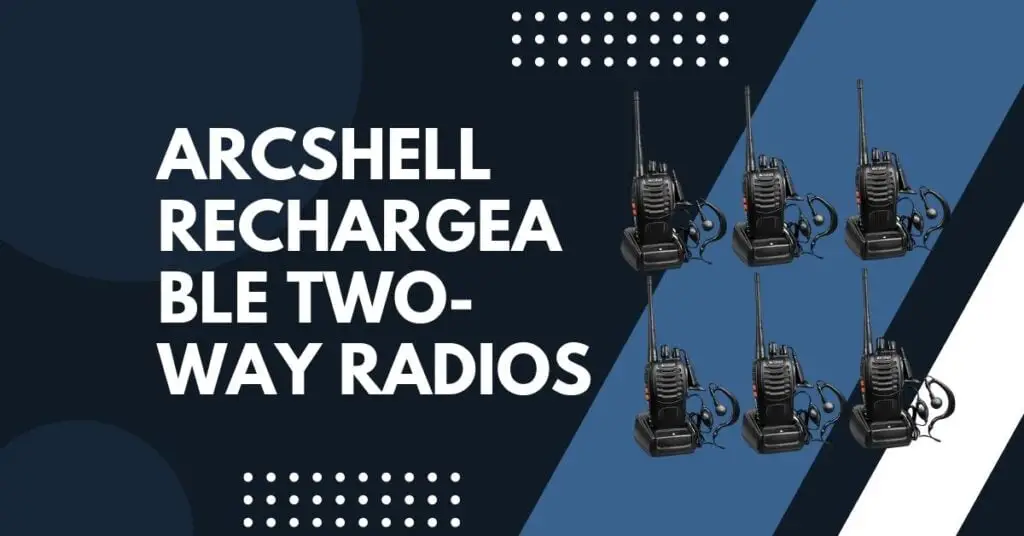 Featuring a range of up to five miles, this two-way radio is ideal for communication outdoors. If you're looking for an affordable, reliable two-way radio, this one's a great choice. With a built-in LED flashlight, this radio is ideal for camping or hiking. Rechargeable, you don't have to buy batteries, and a belt clip makes it easy to carry.
For boaters, a handheld VHF radio is an essential piece of communication gear. Featuring 50W of power, a backlight display, and more, Standard Horizon's HX210 is an outstanding VHF radio for the money. While at sea, you can also see your position with the built-in GPS.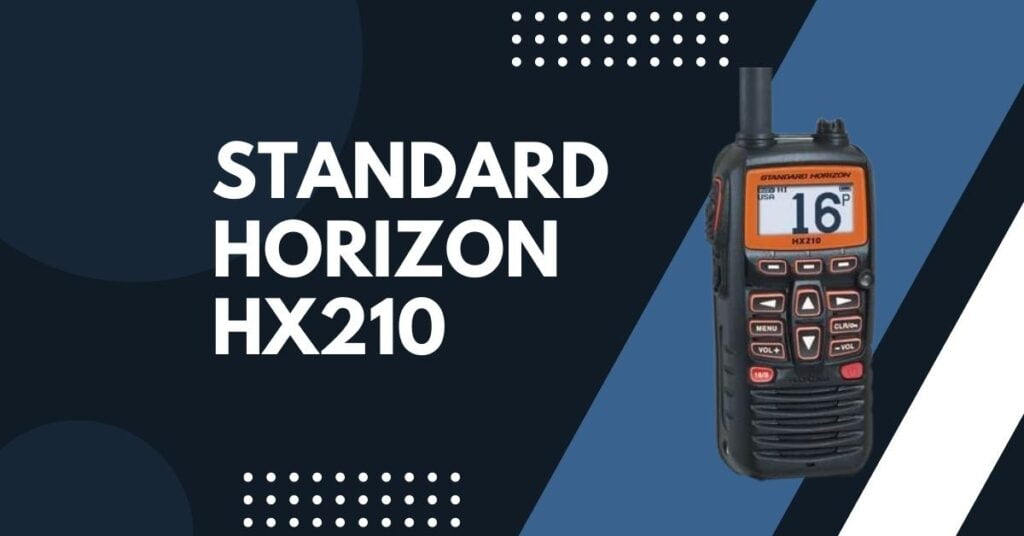 The HX210 features 50 watts of power output, NOAA weather and channel position announcements, a display backlight, 25 channels of memory, and a large, bright LCD. Upon switching on the radio, a GPS lock can take several minutes to establish. It includes a built-in antenna.
A GPS antenna provides accurate position details on a map. The HX210 comes with an AC adapter and a charging cradle. It has a belt clip, and wrist strap, and comes with a user manual.
There are several types of two-way radios on the market today, including handheld mobiles, vehicular radios, ship-to-shore radios (SLS), backpack radios, and hand-held portable radios.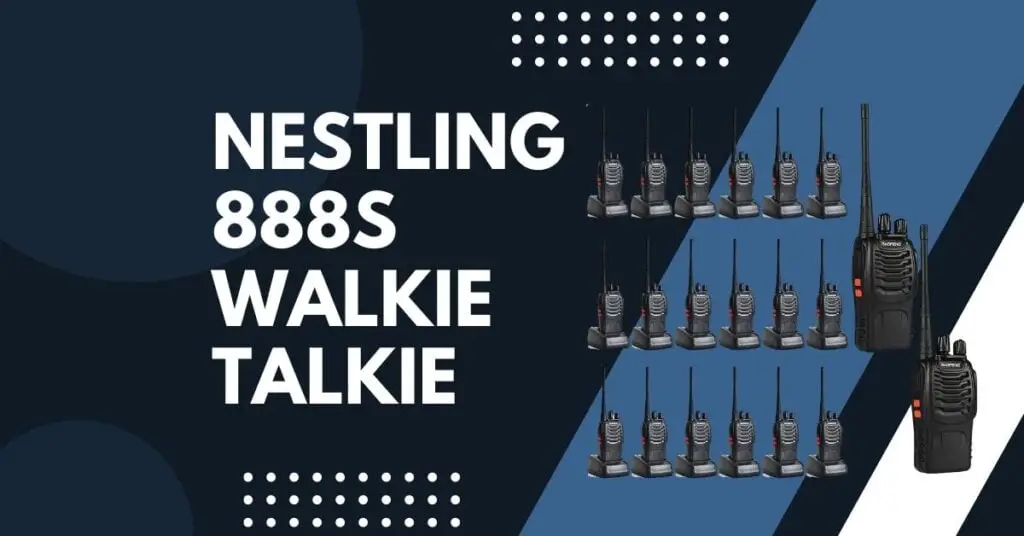 In the Americas, Europe, and Asia/Pacific, there are a large number of manufacturers that offer two-way radios. Some are small enough to fit in your pocket, while others are as bulky as a lunchbox. In two-way radio systems, such as walkie-talkies, mobile radios are radio transceivers that are mounted in vehicles.
There are many types of mobile radios, from ruggedized hand-held units to vehicles mounted with radios. Mobile radios typically use one or more of these frequencies: rd frequencies worldwide: 700-800 MHz range, 4 watt(s) to 16 watt(s).
This Greaval Rechargeable Walkie Talkie lets you stay in touch from up to 10 kilometers away with family and friends. It's easier than ever to connect with family and friends with the Greaval Walkie Talkie; the perfect companion for camping, hiking, biking, and other outdoor activities.
This portable radio has a range of 10 kilometers. It has a built-in rechargeable battery that allows for up to 10 hours of continuous use. The LCD screen lets users monitor the radio frequency and battery life easily. Designed to be lightweight and compact, these units are convenient to use on the go.
There are 22 channels of the Greaval Rechargeable Walkie-Talkie, including FRS/GMRS, which can be selected as necessary. The push-to-talk button is easy to use in any situation. The Great Rechargeable Walkie-Talkie has a low battery alarm that will notify you when the battery runs low.
With the Motorola Talkabout T100 2-Way Radio, you will be able to send and receive messages over both UHF and VHF frequencies. Its range on UHF is 16 km and on VHF it is 8 km.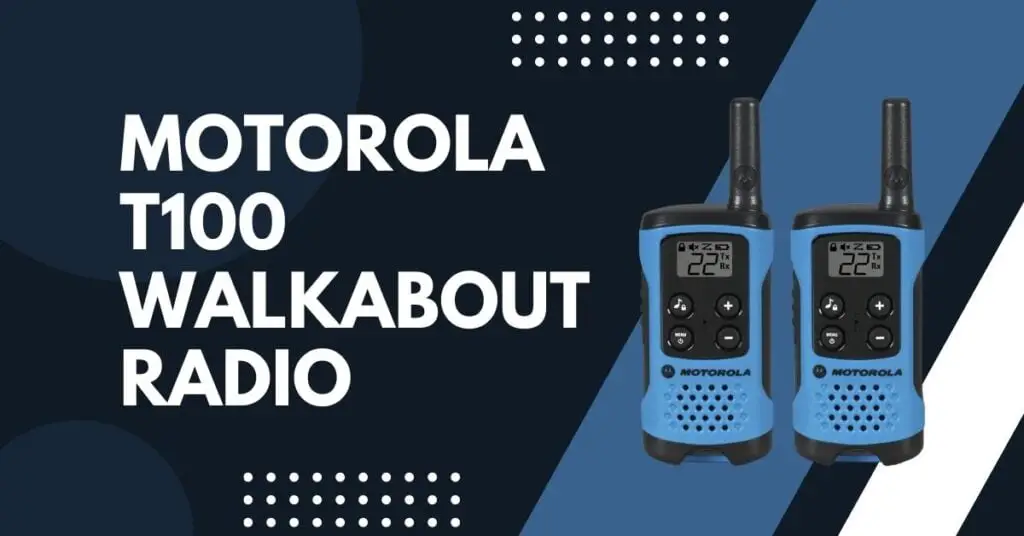 There are 22 channels and 121 privacy codes in the T100, so your team will be able to communicate clearly and stay connected. With a range of up to 30 km / 18.6 miles, it is also compatible with other Motorola Walkabout and GP300 handhelds.
What are the Most Important Walkie-Talkie Features for Cruise Ships?
You can use walkie-talkies in a variety of industries, and each industry has its specific requirements. When choosing walkie-talkies for your cruise ship, be sure to consider these features:
How do people communicate on cruise ships?
How do people communicate on cruise ships? Keeping in touch on a cruise is easy with these methods.
Step: 1
Communication devices such as walkie talkies
Step: 2
A Princess Cruise Line OceanMedallion has been awarded
Step: 3
Wave Phones and the Disney Cruise Line Navigator App
Step: 4
Apps that send messages to cruise ships
Step: 5
The Wi-Fi package is available
Walkie-talkie app for cruise
You can stay in touch with friends and family while on a cruise ship with a walkie-talkie app. These applications, such as Zello and HeyTell, allow you to send voice messages in real-time and are useful when cellular service is limited or unavailable.
To use walkie-talkie apps on a cruise, you will need a compatible device and a stable internet connection. Many cruise ships provide WiFi services, but these services may be limited or incur additional charges.
FAQs
Are walkie-talkies allowed on cruise ships?
In general, walkie-talkies are allowed on cruise ships. Some ships even allow guests to rent them through guest services. You should know, however, that certain two-way radios need a license to operate.
Can you get a signal on a cruise?
When you're at sea, a reception will most likely be limited. From your cruise ship, you can make a phone call whenever there is a signal. However, you may have to pay a roaming fee if you wish to make a phone call at sea.
On a cruise, should I put my phone on airplane mode?
You can easily rack up $500 roaming charges at sea if you don't put your phone on airplane mode. Cellular rates can sneak up on you at sea, so set yours to airplane mode to avoid roaming charges. Make sure your phone is set to airplane mode even if you aren't using it.
Can you get Wi-Fi on a cruise for a fee?
Take advantage of inclusive fares when you book a cruise
At sea, mainstream cruise lines usually do not include Wi-Fi in their fares, but premium and luxury lines almost always do. On land, low- to mid-priced hotels often offer free Wi-Fi, while premium and luxury brands typically charge for Internet.
Can you text while on a cruise ship?
Using a cellular signal at sea is possible, as long as your ship has a roaming network. (Just make sure the data is enabled There is no roaming charge when you text.) Texting costs a lot less than voice calls — usually as much as pay-as-you-go rates on international calls.
Conclusion
You can use walkie-talkies on cruise ships as well. There are a few things to note, such as signal interference, which can occur due to various obstructions that are visible on the cruise ship. You cannot communicate completely while the other person is outside your cabin.
On the top of the deck or outside the cabin, where there are fewer obstructions, you can almost flawlessly communicate with your friend.
If you are planning to use a walkie-talkie on a cruise ship, consider buying a UHF radio or a high-end walkie-talkie if you can't cover the entire ship completely. Both options can extend the device's range to enjoy seamless communication. UHF radios can penetrate obstructions, while high-end walkie-talkies perform better than their counterparts.