Last updated on September 9th, 2023 at 01:39 pm
This guide includes, "What is Walkie Talkie Range? How to increase Walkie Talkie Range, Advantages and Disadvantages of Walkies, and much more
A common confusion with hand-held radios is their range of communication. Radio manufacturers typically advertise maximum ranges under ideal conditions.
While listed as having a maximum range, the actual range that can be used by radios depends heavily on the situation and is usually nowhere near that. While some consumers believe this is false advertising on the manufacturer's part, others argue that these maximum ranges are truly the most objective metric.
How is the maximum range of a walkie-talkie determined?
During testing, manufacturer-specified optimum conditions are set up to determine the radio's maximum range. To visualize this, consider the view from two hot air balloons on a clear day.
When these conditions are met, the signal should propagate only through the air, which is free from most environmental influences. The maximum range of the radio is determined by several factors, including:
1. Output power
2. Transmission frequency and antenna
Benefits of Walkie Talkie
When you are out of cell phone range and you would like to communicate with your friends or family, walkie-talkies are the perfect way to do so. You may not be aware of some of the benefits of walkie talkie range.
The first benefit that you may not be aware of is the ability to communicate with others who are located a long distance away.
Additionally, you can move around freely without having to worry about talking on the phone.
Disadvantages of Walkie Talkie
The walkie-talkie has many advantages, however, it has a few disadvantages as well. – It takes up a lot of space.
Privacy concerns
The walkie-talkie uses radio waves, so anyone with a radio receiver can listen in. In addition, walkie-talkies are easy to monitor. An observer simply needs to find a good vantage point and listen.
Cost-effective
Walkie-talkies are not only cheap to purchase, but they are also inexpensive to operate. If you are a parent looking to save money, this can be good news, but it can also be bad news, as it can lead to children misbehaving so that they can use their phones.
Lack of functionality
There are limited features in walkie-talkies, so they are not very useful. This is especially true for the less expensive models. You will find that most walkie-talkies have a maximum of ten different channels.
Range
With a walkie-talkie, the range is very limited, so you can only communicate with individuals who are very close to you. In most cases, the range of a walkie-talkie is only one mile, which is not very far at all.
How to extend your walkie-talkie range?
Description
Here are some tips to extend the range of your walkie-talkie: 
Step: 1
Most walkie-talkies are constructed with a single antenna. If your walkie-talkie has multiple antennas, try switching between them to find the best signal. 
Step: 2
Try to use a straight line for your antenna. Walkie-talkie antennae can be made of wire or metal rods. If you are using a wire antenna, try using a metal rod for a more powerful signal. Make sure not to obstruct the walkie-talkie antennae. 
Step: 3
If your walkie-talkie has an external antenna, try extending the antenna to find a better signal. If you can't extend it, try detaching the antenna from the radio. 
Step: 4
Keep the walkie-talkie antennae clear of other devices or materials. Some walkie-talkies have a high-power function. If you see an icon with three bars, then you have high-power mode. 
Step: 5
This setting boosts the signal but drains the battery quicker. If the range of your walkie-talkie isn't what you want it to be, try using high-power mode.
Cobra Electronics has designed the rugged and water-resistant RX680 two-way walkie-talkie for challenging outdoor adventure with its anti-slip grip, built-in LED flashlight, dedicated volume/power knob, and large LCD screen.
This rugged, waterproof Walkie Talkie is rated IP54 and features 60 channels and 10 NOAA weather channels. They are robust and waterproof, ordered at IP54.
They have an extended runtime, of up to 18 hours (90% Standby, 5% Talk, and 5% Listen). You can use this radio for long runtime with its impressive 38-mile range and 2000mAH rechargeable Li-Polymer battery—ideal 2-way radio for trailblazing in the wild.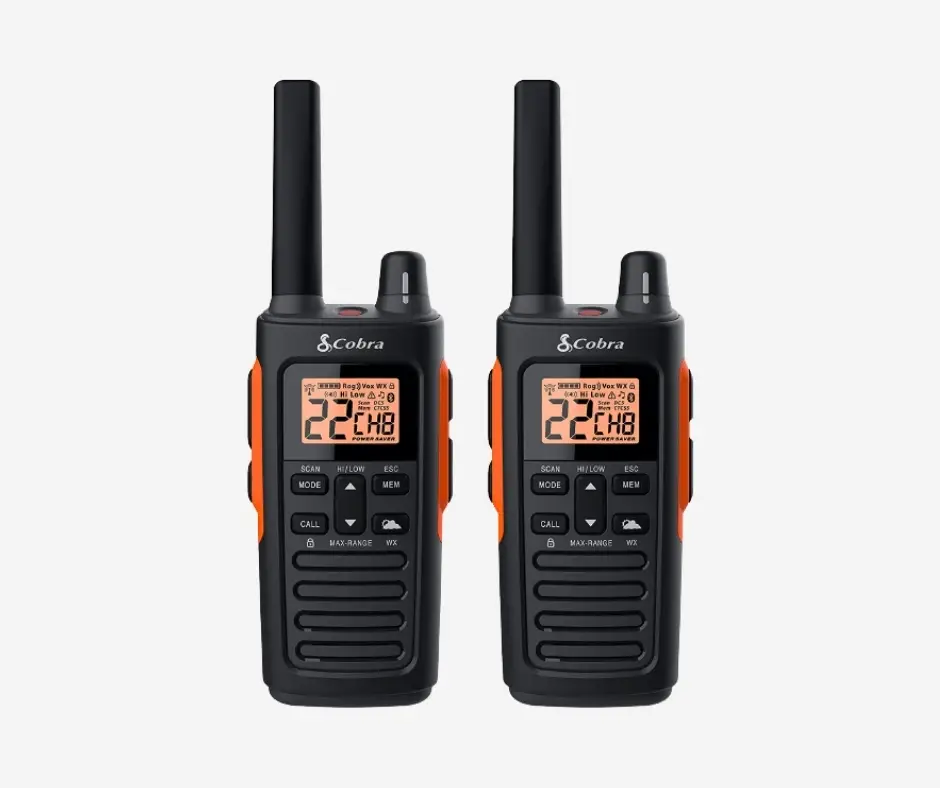 Feature
Pros
Waterproof
Dustproof
Long-range with clear audio
Cons
Frequency dependant
Not supported by another carrier
KEY POINTS
2 Lithium Polymer batteries are required. (included)

International Protection Rating

IP54
38 miles
This product is IP54-rated water-resistant and dust-resistant. It offers long-range communication capabilities and 121 privacy codes to minimize unwanted interference. E. With the NOAA weather alert system and a rechargeable battery, this unit can last up to 18 hours at Best Walkie Talkie.
The item is manufactured by an electronic devices company called "COBRA". Due to the unique shape and design of this gadget, it offers a shockproof and waterproof facility. There are already two lithium polymer batteries installed in the gadgets to provide extra communication and long backup. A rating of IP54 is assigned to this gadget.
2. MOTOROLA T460 2-WAY RADIOS
MOTOROLA SOLUTIONS Talkabout T460 Rechargeable Two-Way Radio Pair. Easy Touch Keys, Digital Display. Long Range, Strong Transmission. Lithium-Ion Battery, NiMH Battery, Comes with Battery Charger.
Motorola has long been recognized mutually of the foremost powerful brands within the walkie-movie trade. Their latest giving, the T460 2-Way Radios, clearly lives up to its name. This transportable communication device is capable of transmittal sound waves up to a distance of thirty-five miles.
It additionally options no but twenty-two channels and 121 privacy codes for simple communication. In case you raise regarding its sturdiness, the T460 is provided with IPX4 water-resistance capabilities. Except for that, it may be used hands-free, creating it excellent for any activity. And being a walkie movie for long-distance, T460 additionally carries a sleek and trendy style.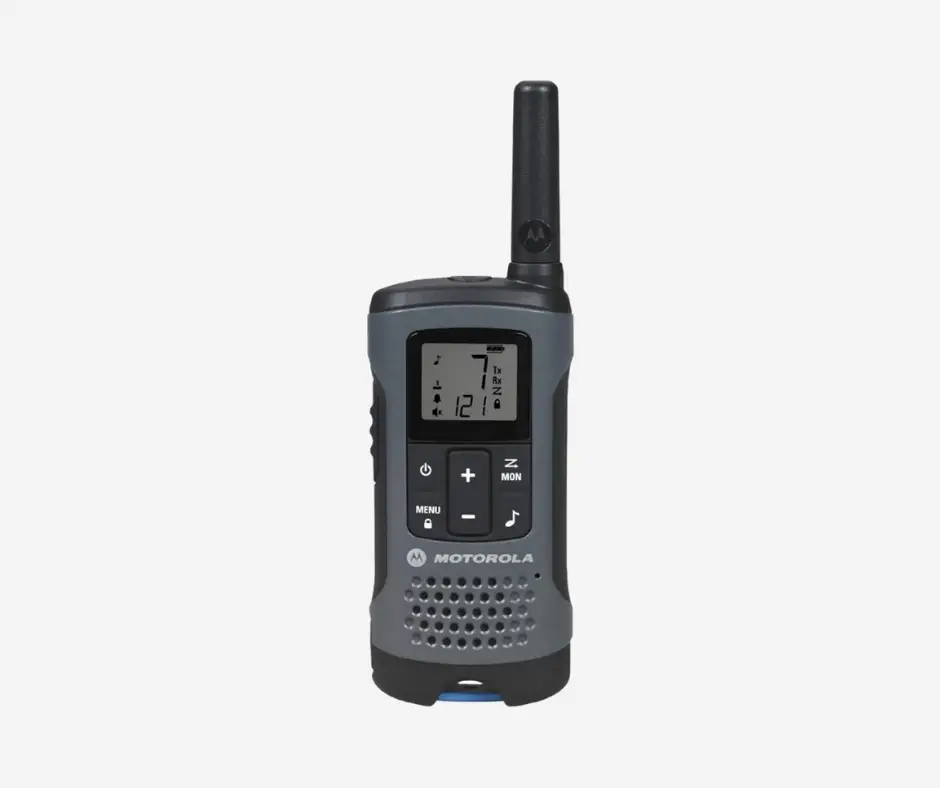 Feature
Pros
Having rechargeable batteries
User guide
Clips of belt
Built-in LED light
Cons
Battery timing is only 8 hours
KEY POINTS
1 AA batteries required. (included)

1.37 x 2.26 x 7.54 inches
Conclusion:-
To conclude the above discussion in a single and coherent paragraph, the walkie-talkie has become very important in our daily lives. Accidents, robberies, and other irregularities occur every day regardless of the industry a person works in, how large the organization may be, or whether you are responsible for their safety and security. You may find a wireless warlike valuable talkie in this case.
Construction workers who use mobile phones on construction sites could have fatal accidents if they aren't entirely focused. So the Best Walkie-Talkie will keep them focused and prevent unnecessary incidents.
Two-way radios allow you to respond immediately to an incident that occurs and are cost-effective. We provide you with the best communication products so that communication can be faster, cheaper, and more efficient. There are 22,662 possible combinations of channels, each with 121 privacy codes, making it easy for viewers to pick a suitable medium.